"On The Death Of The Beloved"
John O'Donohue
Though we need to weep your loss,
You dwell in that safe place in our hearts,
Where no storm or night or pain can reach you.

Your love was like the dawn
Brightening over our lives
Awakening beneath the dark
A further adventure of colour.

The sound of your voice
Found for us
A new music
That brightened everything.

Whatever you enfolded in your gaze
Quickened in the joy of its being;
You placed smiles like flowers
On the altar of the heart.
Your mind always sparkled
With wonder at things.

Though your days here were brief,
Your spirit was live, awake, complete.

We look towards each other no longer
From the old distance of our names;
Now you dwell inside the rhythm of breath,
As close to us as we are to ourselves.

Though we cannot see you with outward eyes,
We know our soul's gaze is upon your face,
Smiling back at us from within everything
To which we bring our best refinement.

Let us not look for you only in memory,
Where we would grow lonely without you.
You would want us to find you in presence,
Beside us when beauty brightens,
When kindness glows
And music echoes eternal tones.

When orchids brighten the earth,
Darkest winter has turned to spring;
May this dark grief flower with hope
In every heart that loves you.

May you continue to inspire us:

To enter each day with a generous heart.
To serve the call of courage and love
Until we see your beautiful face again
In that land where there is no more separation,
Where all tears will be wiped from our mind,
And where we will never lose you again.

In Memorium
EDILITH ECKART
March 25, 1919 - June 16, 2004
"I am one. I cannot do everything -- but I can do something. I will do what I can." --Helen Keller
Edith Eckart was born on March 25, 1919, in Brooklyn, New York. She graduated from Cornell University with a Biology degree in 1941 and taught science at South Kortright Central School in Hobart, New York. Edith became a WAVE in World War II. She met her husband, Robert R. Eckart, Jr., in Cambridge, Massachusetts when she was studying radar at MIT. They eventually had four children and eight grandchildren, all of whom reside in Humboldt County.
In the late 1970s, after Edith moved to Arcata to join her children, she became "Edilith"-a grandson's pronunciation of her name. Edilith loved how it sounded like Edelweiss, a white high mountain flower, and decided it suited her.
Edilith's activism spanned many years. In the 1960s and '70s, she was involved in the struggle for civil rights and the environment. Then her focus became world peace. After traveling to the Soviet Union in 1981 with Danaan Parry, founder of Earthstewards Network, Edilith went on to lead 15 people-to-people diplomacy trips to the USSR.
In 1990 Edilith traveled to Japan for ceremonies marking the 50th anniversary of the bombing of Hiroshima and Nagasaki. She made multiple trips to Israel and Palestine in the 1990s, standing in silent vigil with the original Women in Black.
Edilith was one of the founding members of Veterans For Peace Humboldt Bay Chapter 56, in 1991. In August 1996, then President Sanford Kelson traveled all the way from Pittsburgh, PA to Arcata to present her with the VFP President's Medal. He then proceeded to nominate her for the VFP National Board. She served VFP well and was re-elected to the board in 1999 at the age of 80.
Edilith violated the US travel ban and sanctions against providing aid to Iraq in 1998 when she helped deliver $4 million worth of medicines to Iraqi hospitals on a delegation led by Ramsey Clark. On the return trip she and Fredy Champagne hatched the idea of the VFP Iraq Water Project, and proceeded to birth it against all odds. In October 2000, the first team went to Labanni, a small village near Basra, to repair water treatment plants that had been destroyed by US bombing. A few months later, Edilith went to Iraq on an inspection tour to verify that fresh water was actually flowing to the people of Labanni. The Iraq Water Project has rebuilt six water treatment plants in small towns in Iraq and their work continues, with the next project planned for Fallujah.
Over the years, Edilith was arrested numerous times for her involvement in protests and demonstrations. Woody Powell remembers her crying as a group of activists marched through the gate of the School of the Americas at Ft. Benning one year to be arrested and processed. He says, "Her passions were great and always noticeable."
The night of her passing, Edilith had been planning to attend an Arcata City Council meeting to protest the subdivision of a lot across the street from her home, fearing it would negatively impact the creek there. She died with her boots on.
---
TOM HARPER
March 24, 1915 - January 20, 2006
Thomas Sinclair Harper, M.D., our oldest VFP Chapter 56 member, died at home on Friday morning, January 20, 2006, two months shy of his 91st birthday. Tom was born in Grand Junction Colorado on March 24, 1915 to parents Sinclair and Mabel Harper. He had two brothers, Robert and John.
A fact about Tom little known to VFP friends is that he spent his youth playing tennis. He distinguished himself in the sport, earning trophies in Colorado singles tournaments and playing doubles with his father. He even played a match with tennis great Bill Tilden (which he lost).
Tom first graduated from Cal Tech in Pasadena, then received a medical degree from the University of Colorado in Denver in 1942. Immediately after graduation, he joined the Navy, where he served for the remainder of World War II, stationed in Hawaii and the South Pacific. Not yet having completed his medical residency, Tom was thrust into being a surgeon on board a storm-rocked naval ship, where he performed an appendectomy by reading from a manual and getting advice on a phone. The patient survived. After the war, Tom decided to switch his medical specialty to psychiatry. He studied at the Menninger Clinic in Topeka, Kansas, before moving east to Westchester County, New York.
Tom was a strong believer in non-violence and a peace activist for most of his life. In the 1960s, he attended many anti-Vietnam war protests, including the 1968 protest at the Democratic Convention in Chicago, as well as large protests in New York City and Washington D.C.
In 1974, at age 59, Tom packed all he owned into a VW van and moved to Mendocino, California. Tom liked his Volkswagen, but after five engine replacements he finally switched to a Honda Civic, a model to which he was loyal 'til death. In 1990 Tom moved north and opened his psychiatry practice in Eureka. His long medical career spanned more than 60 years.
Big changes came in 2003 when, at age 88, Tom fell and fractured his hip. Veterans For Peace friends rallied around him, taking one of their Friday evening peace vigils to a grassy spot in front of his hospital window. Nurses helped Tom move near the window so he could participate in the vigil from his room. He sat waving his arms practically the entire hour, in solidarity with his friends. He mended well from that fall and was soon able to rejoin the vigil on the Arcata Plaza. He was one of the most stalwart participants in that ongoing action.
In recent years, Tom was incredibly active and expressed interest in everything that was happening in his local peace community. When he turned 90, VFP-56 threw a birthday party to raise money for the G.I. Rights Hotline, and members presented Tom with a beautiful glass plaque for his life-long dedication to peace and justice. He was the life of the party, telling jokes about George W. and eating more than his share of birthday cake.
Tom also was an active participant in the Marsh Commons co-housing association where he lived. Marsh Commons residents John Schaeffer and Kit Crosby-Williams, familiar faces at the Friday vigil, were especially fond of him. He was affectionately known as Tomas to his second family from Mendocino, Marlene, Shean, Terry, Marla, Heather, James, and Laura Greenway, to whom he was a friend, father, intellectual companion and confidant.
Tom's brothers and his ex-wife Maureen preceded him in death. He is survived by his sons Richard and Paul of Arizona, his daughter Joan and son-in-law Don Morgan of North Salem, New York; and granddaughters Elizabeth Morgan and Katherine Morgan.
---
Fred Hummel
Sept. 9, 1926 - Jan. 4, 2011
Fred Hummel was born in 1926 and raised in a town that bordered on Newark, New Jersey. He had two sisters, one older and one younger. World War II was raging during his high school years and many of the older kids from his school—some enlisted, some drafted—were already fighting in Europe. Fred couldn't wait to join the action. He enlisted in the Naval Reserve at age 17, waiting until after graduation only because parents wouldn't sign until he graduated. (Only later did he realize could have easily forged his papers, as many other young servicemen had.) It was the end of 1943 by the time he signed up. His technical training lasted until August of 1944, after which he shipped out to California where he was assigned to a Carrier Aircraft Service Unit. Fred volunteered for sea duty. He was told nothing was available, but he was persistent. Fred shipped out to sea aboard the USS Hornet, CV12, an Essex class carrier, destined for the "Battle of Japan." But the first atomic bomb was dropped on Hiroshima before they shipped out, and the second bomb was dropped on Nagasaki shortly afterward, so instead, the ship was redirected to Oahu, Hawaii to pick up soldiers and bring them back to California. Consequently, Fred was on board with some of the first troops to return to San Francisco after the war ended.
Fred was discharged in May of 1946 at the ripe age of 19. He returned to Newark, and within a month he was hired by New Jersey Bell, a career job that would last for 33 years.
Fred moved to Oregon and became mayor of Brookings. In 1991 in a forest just east of Brookings, a young redwood tree was planted by the Japanese pilot, Nobuo Fujita (since deceased) and Fred, representing the City of Brookings, as a memorial. There is an informational gazebo there too. This memorial stands to remind people of what happens during wars and as a gesture of reconciliation from the Japanese. As someone who was in military service during the same era, Fred could not help but think that, had he been a little younger, he might have met this pilot face-to-face in battle. He was thankful to have met him face-to-face in a meaningful ceremony of peace instead.
Three years after he was diagnosed with leukemia in 1998, Fred moved to Humboldt County to be closer to a provider of specialized medical care. He chose Arcata over Medford or Eugene, Oregon because of the town's progressive politics and its coastal location. He had met Bill Thompson when VFP Chapter 56 came to march in one of Brookings' big festival parades and had joined Veterans For Peace in 1992 before moving to Arcata. Upon relocating, he embraced the Humboldt Bay chapter and soon became one its active members until his death.
---
Guy Kuttner
May 23, 1946 - March 3, 2011
Guy was born in Chicago on May 23, 1946 and continued his journey into the greater being on March 3, 2011. Guy was a wonderful teacher who made us laugh and think. He was a wise, ridiculous and passionate lover of life, his family and friends. Guy participated in all aspects of life with his big, golden heart and beautiful smile. He gardened, cooked, painted, built, restored streams and worked tirelessly for the earth. We will always see him walking jauntily across his school campuses, laughing boldly where no one had gone before, singing exuberantly with us, or bravely speaking truth to power.
Guy shared his humanity, insight, irreverence and wit through his writings on school reform, social justice, politics and the people he knew. He wrote books, columns and powerful letters to the editor.
He was a lifelong peacemaker and war resister. After turning in his draft card with a poem to J. Edgar Hoover in resistance to Vietnam War, he worked whole-heartedly with the War Resisters League, War Tax Resistance Movement, Humboldt Draft Coordinating Committee, Humboldt Sanctuary Movement and Humboldt Committee for Conscientious Objectors, establishing the GI Rights Hotline, becoming a member of Humboldt Bay VFP Chapter 056.
Dear Guyzie! We will always miss your presence and will keep your spirit alive, sharing the joy, passion, and love you gave us.
---
June Thompson
Mar 8, 1926 – May 16, 2013
On the morning of May 16, our beloved June Thompson, a deeply valued member of our chapter of Veteran's For Peace, passed away. June was an active force for peace during the 60's until 2013. She and her husband Bill, retired teachers, help found Humboldt Bay Chapter 56. Her brilliant, loving spirit will be missed by all.
---
Doug Smith
On Sunday March 10th, 2013 in the first hours of daylight saving time, Doug Smith died after gracefully living with liver cancer for a year. Doug was one of eight children born to Lucy Lozinto, Dry Creek Pomo, and Steven Smith Jr., Bodega Miwok. He was a member of the Dry Creek Rancheria Band of Pomo Indians. Most of Doug's younger years were spent in Sonoma County with extended family, camping at the coast to gather seaweed, surf fish and hunt abalone, living on his parents' ranch, and spending summers picking hops and fruit in California and Oregon. He was drafted into the Army in 1964 and served in Vietnam from 1965 to 1966.
Doug was a wonderful person – understated, completely modest, accepting of himself and others, and always pleased to help. He was competent in an incredible range of skills including: woodworking, plumbing, electrical wiring, welding, blacksmithing, winery operation, fruit tree pruning, avionics, and equipment operation and repair. He loved seeing the world, enjoying good music, good food, art, good friends, and hiking. He had a wide variety of jobs – with Pan American Airways, Frey Winery, the National Park Service and Mare Island Naval Shipyards.
For Doug, life was about learning and working on projects; he had a tool for every purpose. He was an avid reader of non-fiction. After retiring, he learned to tango, improved his golf game, spent time at his New River cabin, and continued to travel. In his last year, it was important for him to see old friends and places, so he and his wife Ann, went to Crater Lake, Salt Point State Park, the Pacific Northwest, the Port Townsend Wooden Boat Show and to New Mexico.
Doug's experience in Vietnam led him to join VFP56. He was an active and well-loved member.
---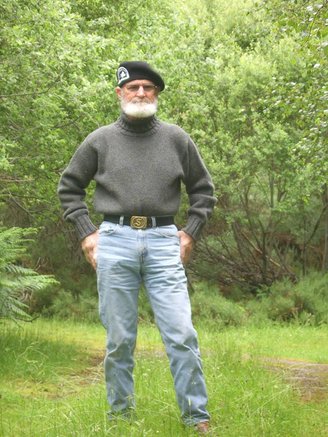 James Sorter
1940-2018
Jim was one of our most active members and the editor of The Foghorn, our newsletter, for many years. In addition to his work for peace, he was active in the environmental movement. A full obituary appeared in Lost Coast Outpost.
---
Bill Thompson
May 28, 1929 - Dec. 24, 2018
Our founding member Bill Thompson died peacefully at the end of 2018. A full obituary appeared in the The Mad River Union and the North Coast Journal.